Pictured Above: Volunteers working with one of the youth as they prepare to move fresh soil. (USF/Nicole Billing)
---
By Emily Heise and Nicole Billing
The St. Pete Youth Farm isn't just growing fresh fruits and vegetables; they're expanding access to healthy nutrition in south St. Petersburg.
Midtown, located in south St. Petersburg, has been without a local, full-service grocery store for over four years, leaving the community to come up with creative ways to provide nutritious, healthy foods to the community.
The St. Pete Youth Farm is a youth development program and urban farm located at Enoch Davis Center in the South St. Petersburg Community Redevelopment Area. The area was developed to promote job and education growth as well as reinvestment in housing and neighborhoods. It is one of the largest CRAs in Florida.
Youth-led and partnered with dozens of community organizations, the farm functions to ensure nutritional security for the people of south St. Petersburg while fostering a healthy learning environment for young people. High school participants pick up valuable skills such as entrepreneurship, financial literacy and leadership, among farming and culinary expertise.
Carla Bristol, the farm's collaboration manager since 2019, has worked tirelessly as the farm transformed from an empty plot of land to a flourishing, working farm, complete with an irrigation system and greenhouse.
Using surveys and meetings, the farm's team grows the foods that the community asks for, such as onions, tomatoes, collards and kale. Classes are held to teach residents about farming in their own homes, culinary skills and nutrition.
"Just the knowledge the community will gain from having this working farm here will allow a lot more independence and self-reliance," Bristol said.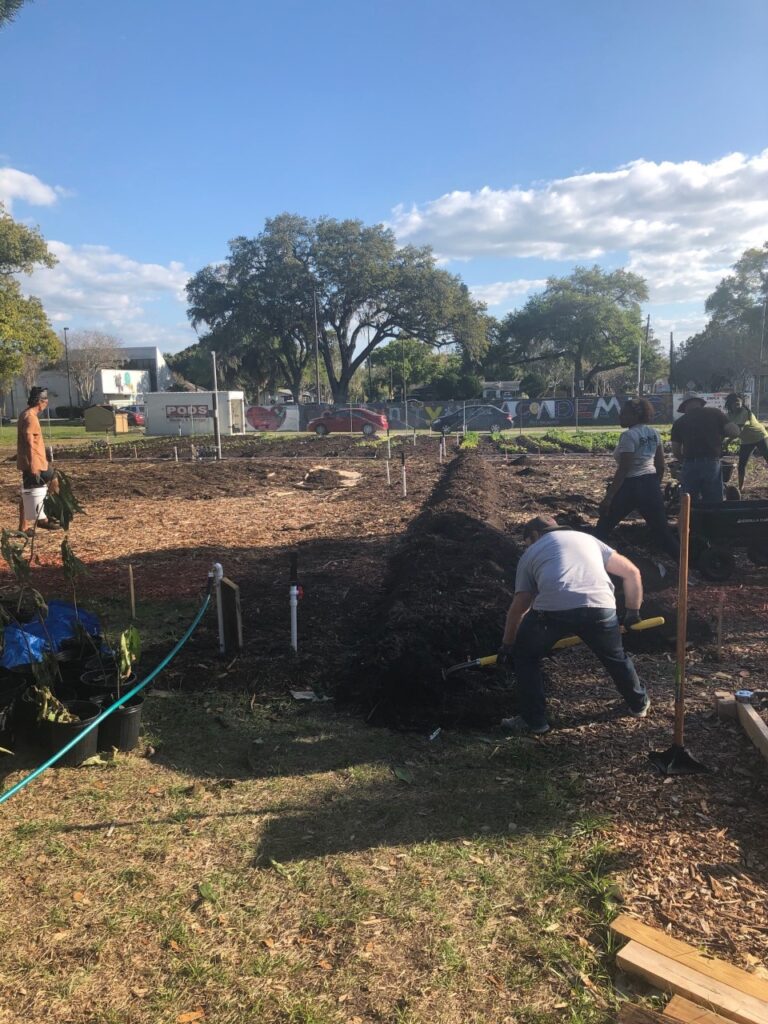 Daphne Gardner, APRN, FNP-C, is the owner and founder of Infinity Health Consultants located at the James B. Sanderlin Family Center. With her 26 years of nursing experience in St. Petersburg, she has witnessed the many changes in the community's access to healthy and nutritious foods.
"In the area that I serve, which is the south St. Petersburg area, we don't have a great deal of access to healthy foods," Gardner said. "A lot of the area doesn't have a nearby community grocery store… so it's kind of difficult for those in the community to be able to eat a healthy diet, get healthy foods, and healthy nutrition."
The farm, which is still a work in progress, plans to hold future markets where the people of south St. Petersburg can have access to nutritious foods. For now, they hold workdays where the community comes together to work on the farm and learn about nutrition. The turnout is always great, with volunteers and neighbors eager to help the effort, shovels in hand.
As Bristol always says, "Many hands make light work."
One of the major factors that has impacted Midtown is the absence of full-service grocery stores and access to fresh and frozen fruits and vegetables. Gardner explained that having access to local, nutritious foods is extremely important to maintain a healthy lifestyle.
"Either way, if there's low nutrition of course you can have weight loss," Gardner said. "Low healthy nutrition you can also have weight gain in addition to weight loss because the body is not metabolizing well and it's just kind of sucking up all of those fatty foods."
Anaya Graham is a high school sophomore who has been a youth ambassador for the program since 2019. Next week, she will meet with the Florida Department of Agriculture in Tallahassee to discuss the success of the farm.
She loves meeting new people through the farm and feels it has equipped her with many important skills she will carry into her future. Graham has also learned more about her community and nutritional security.
"I didn't know much about food deserts until [the farm staff] told us that I personally was actually living in one all these years," Graham said. "I thought having fast food places everywhere was normal until they broke everything down for us and told us how these fast food places were taking over our health."
Some local businesses, such as Joe Brady's Bait & Tackle, began stocking their shelves with fresh fruits, vegetables and seedlings. The owners grow the plants right in front of the shop, making it easy for residents to access fresh produce while also getting their corner store goodies, like chips and beer.
"Being able to empower these small, local, Black-owned businesses within the south St. Petersburg CRA and incentivize them to offer fresh produce as well, is a direction that I would like to see us take," Bristol said.
Wendy Wesley, RDN, owner and founder of Wendy Wesley Nutrition, shared that within Midtown, there is a 42-square block area of St. Petersburg with no full-service grocery stores. This means that residents would need either reliable transportation to travel to a grocery store or go to gas stations and dollar stores.
"When you don't have access to fresh produce, and basically everything that you would find in a full-service grocery store, which is meat, dairy, whole-grains, fresh produce, frozen produce, all of it, a lot of my patients were eating out of gas stations and dollar stores," Wesley said. "Those foods are very high in sodium, low fiber, low nutrient and that is not how you manage chronic disease."
Both Walmart and Winn Dixie were once located in south St. Petersburg, but they eventually pulled out of the area. Since then, there have been no proper grocery options besides numerous dollar stores and gas stations.
"It's been four years since that store closed, and I think it's time that the city makes good on its promise to put a grocery option there," Wesley said. "Four years is a long time to manage chronic disease without access to nutrient dense foods."
Both Gardner and Wesley explained that they treat patients of all ages from St. Petersburg with chronic diseases, including obesity, diabetes, cardiac disease and kidney failure. Their patients would admit they know how to eat, but the food generally does not exist in their community.
"Chronic disease worsens when you don't have access to food," said Wesley.
Bristol explained that food is essential, meaning south St. Petersburg cannot rely only on big corporations to meet the community's needs because of the unpredictability of corporate decisions.
"I just want to see patients healthy and thriving, functioning and making the right choices in their lives so that they can live better, healthier lives," Gardner said. "I just want the community to stay healthy and stay informed, most of all."