Pictured Above: The Publix 2021 Collard Green Festival, featuring James Beard Award-winning chef and native son Edouardo Jordan (right), is happening this Saturday on the corner of 22nd Street and 9th Avenue South. On the left is former News Channel 8 newsman Rob Carter with festival co-founder Boyzell Hosey at the 2018 event.
Courtesy of The Weekly Challenger
---
By Mark Parker
The 2021 Publix Tampa Bay Collard Green Festival returned May 15 on the corner of 22nd Street & Ninth Avenue South. Live music and cooking demonstrations took place to inspire a healthy community through fitness, nutrition and family fun.
This year's festival featured a virtual demonstration from not one, but two James Beard Award-winning chefs, one of which is a proud son of St. Petersburg.
Everyone loves an underdog story, overcoming the odds to blaze new trails and achieve what was once thought impossible through sheer grit and determination.
St. Petersburg's own decorated chef and restaurateur Edouardo Jordan embodies that underdog spirit from a boy growing up in Childs Park to becoming the first African American to grace the cover of Food & Wine magazine.
He credits his experiences as a kid for instilling the mentality that has served him so well ever since.
"One of the blessings of being a part of the St. Pete community, the Childs Park area, was just learning the hustle and the grind," Jordan said. "Learning to make something out of nothing."
Growing up, Jordan was one of the younger and smaller kids on the block and was constantly trying to keep up with the older kids. He was usually the shortest or slowest person playing sports, and school did not come easy for him, either. He soon realized that if he wanted to achieve his goals in life — both then and in the future — he was simply going to have to work harder than most people.
"I struggled in school, I struggled in sports," he said. "So, what I did was work extremely hard to get better each and every day. I put people who are better than me around me, to inspire me to at least try and get to that level. And what happened with that situation was that I became an A student, I became an MVP on various teams. It wasn't because I was the greatest at anything that I did; I just worked extremely hard."
After graduating high school, Jordan knew he needed to break out of his comfort zone in St. Petersburg. Since he planned on staying in Florida, he decided to go to a university in a city that would adapt him to what other areas of society are like.
With friends and family in Tallahassee and Miami seeming too distracting, Gainesville and the University of Florida made the most sense to him.
"It was a highly recommended, highly prestigious university in the state of Florida, and I wanted a challenge," Jordan said. "I wanted something slightly different; I wanted to be a little bit farther away from my inner circle. That was helpful for me to get my own grounding, find my whole new network of people to explore and learn the world from a different perspective. From my Caribbean and West Indies friends to my fraternity brothers, to some of the non-minorities that I became friends with, that I continue to be able to network with – even in my career now."
The first in his family to attend college, Jordan would graduate with dual degrees in business administration and sports management. However, he did not feel passionate about a career in those fields.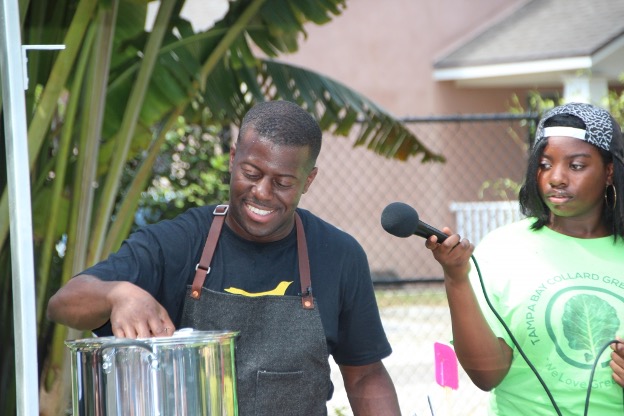 "I think every mother and father's dream is to have their son go to law school or become a doctor, do something that's in that like one percent range," Jordan said. "But when I graduated from the University of Florida, I kind of had a come-to-Jesus moment of what I actually love doing is hosting people, and feeding people, and nourishing their body."
Jordan would then go on to graduate with honors from Le Cordon Bleu in Orlando, spend some time at Mise en Place in Tampa, and then begin his meteoric rise through the culinary world at the prestigious restaurant The French Laundry in Napa Valley. From there, he would migrate north to Seattle, where the sky has been the limit.
After 10 years of honing his craft and finding his voice in the culinary world, Jordan would open his first restaurant called Salare in Seattle in 2015. A year later, the kid from Azalea Middle School and The Boca Ciega High School would become the first African American to be featured on the cover of Food & Wine magazine for their "Best New Chefs" edition.
The restaurants and awards would continue.
In 2017, he would open JuneBaby, dedicated to his roots and Southern Cuisine. The restaurant was a hit locally and nationally. JuneBaby was selected as a Critic's Pick by the New York Times, was named to Esquire magazine's 2017 list of Best New Restaurants in America, and was chosen one of Food & Wine's 10 best restaurants in 2018.
One of the most prestigious awards one can receive in the culinary world is the James Beard Foundation Award. In 2018, Jordan would win two, taking home the title of Best Chef: Northwest and Best New Restaurant for JuneBaby.
Since then, Jordan has opened up a third restaurant in Seattle called the Lucinda Grain Bar, highlighting heirloom, ancient and local grains. He has also expanded his philanthropic efforts through The Soul of Seattle, which was created to help foster relationships and empower the community through food. His goal is to shed light on the diverse food and Black-owned businesses within Seattle, and another focus in 2021 is on empowering youth of color in the area.
Somehow in between all of this, he found time to start a retail brand close to his heart named Food with Roots that includes the clothing brand – Chitlins.
"That came when I found my voice, found my identity," Jordan explained. "And that comes at different times and levels for everybody. I found mine when I opened my own restaurant; I felt open to speak about what I wanted to speak about."
Growing up, he found it hard to talk about eating hog intestines, or chitterlings (spelled and pronounced chitlins in the South), and the other things he ate for fear of being ridiculed by his peers. He later realized he should not be ashamed of what fed and nurtured him and his family.
Jordan hopes his clothing brand will enable other people to find their voice and express it in whatever manner and not be bashful or doubt themselves.
"This is an extension of who I am as my history is a story," Jordan said. "It's more than just food. It's perseverance and survival; it's creativity. It's the ingenuity that we have created, and always have been able to create as people of color."
While Jordan does not get back often to St. Petersburg, his parents still live here, and he looks forward to coming back soon to see all the changes. He misses the beaches, weather and water, and left the door open to returning home to open a business and retire.
Jordan is excited about being home virtually at the Tampa Bay Collard Green Festival. He attended high school with event co-founder Samantha Harris and agreed to participate back in 2018.
"So, it was just a boon for us to be able to get him again," festival founder Boyzell Hosey said. "Last year, we had food author Toni Tipton-Martin, and for us to get both of them to appear together virtually is pretty amazing for us."
"We're going to have a good time just talking about the good ole days," Jordan said. "Eating collard greens with the family and what it means, and variations of ways you can enjoy them."