Elections 2019
St. Petersburg's City Council, Districts 5 and 7
The USFSP Master's Program in Digital Journalism and Design (DJD) covered some issues raised by community members in municipal districts 5 and 7, which are up for elections this Tuesday, November 5.
Here is the election information retrieved from the Pinellas County Supervisor of Elections' website:
 
Candidates and Districts:
 
Council Member – District 5
Trenia L. Cox – https://treniacox.com/
Deborah Figgs-Sanders – https://www.figgssanders.com/
Council Member – District 7
Eritha "Akile" Cainion – https://voteakile.com/bio/
Lisa Wheeler-Bowman – https://www.lisaforstpete.com/
 
Financial information and more on candidates:
 http://www.stpete.org/elections/
Election guide from the League of Women Voters:
 https://vote.lwspa.org/election-guide
---
Progressive St. Petersburg… and its dividing line
Lavish funding continues to fuel St. Petersburg's dynamic downtown growth, while residents and business owners in Districts 5 & 7 come up empty-handed. 
---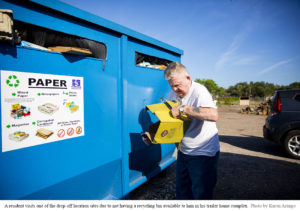 Recycling deficits in St. Petersburg Need Solutions from Elected Officials
Recycling deficits in St. Petersburg Need Solutions from Elected Officials
---
Dispelling the Deserts
Nearly 1,000 days since the Walmart Neighborhood Market closed in Tangerine Plaza, Southside residents consider food cooperatives and community gardens for vital fresh foods.
---
Sinking in Sewage: Can St. Pete Clean Up It's Act?
The slow moving process of fixing the City's infrastructure to preserve one of its main attractions adds pressure the candidates for City Council to offer solutions.
---

Affordable Housing Crisis Hits Hard in St. Petersburg's Districts 5 and 7
City Council hopefuls Cainion and Cox challenge developers and local government to preserve affordable housing in the Southside.